With a stay-at-home order in place for the country in an effort to stop the spread of coronavirus, we are sequestered in our homes with our families, trying to maintain a sense of normalcy during what is arguably the least normal time in our lives. A small part of that normalcy, combined with having much more time on our hands, has probably resulted in plenty of cooking, baking and other culinary escapades.  In sharing workspaces and window views, it would be great to show that we're all experiencing the same weird shift in our lives. There's no better way to feel a bit more together in a time when we're physically so far apart than to see what others are whipping up in the kitchen, swap some recipes and try out some new dishes.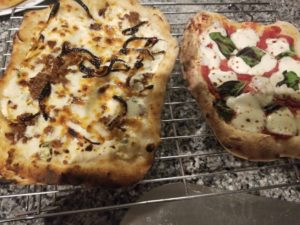 Rustic Italian Pizza Dough Recipe
Submitted by Dawnyel, CLI Corporate Team
The absolute best, easy, thin and crispy rustic Italian pizza dough recipe you will ever make.
Servings: 6
Ingredients:
5 cups all-purpose + some for dusting
1 1/2 tsp active dry yeast
1 1/2 tsp sea salt
2 1/4 cups COLD water
1 tbs extra virgin olive oil
Toppings (suggested or choose your own):
Caramelized onions
Arabia Sauce
Heirloom Tomatoes
Fresh Basil
Green Onions
Smoked Mozzarella Cheese
Sauteed Mushrooms
Ricotta Meatballs
Make sure to preheat your oven as high as it will go for at least 45 minutes to one hour, with the pizza stone in it
Dough (Kitchen Aid)
In the bowl of your kitchen aid and using the paddle attachment mix the flour, sea salt and active dry yeast on low speed until all is incorporated then add the COLD water.
Switch to the dough hook and mix together on low speed for 8 to 10 minutes. The dough should be smooth and sticky but should not stick to the sides of the bowl, only a little to the bottom. (If the dough sticks to the sides sprinkle in a little more flour, if it is too dry then add a bit more water).
After the 8 minutes have passed remove the dough from the kitchen aid and cut it into 6 pieces and form them into rounds. Place them on a lightly oiled cookie sheet and drizzle with 1 tbs of extra virgin olive oil. Cover with plastic wrap and allow to sit at room temperature and rise for 2 hours in a draft free area. (I prefer the oven )
Dough (mix by hand)
Pour the flour into a large bowl. Add the yeast, salt and cold water and using a wooden spoon mix to combine well.
Sprinkle some flour on a work surface/kitchen counter and dump the pizza dough. Sprinkle some more flour on top and using your hands to knead the dough for about 10 to 15 minutes until a smooth ball forms but still a little bit sticky on the bottom
Making the Pizza
Sprinkle the counter with a little bit of flour, take one piece of dough and press down on it with your fingers until you have 1/2" thick circle or oval. Using your fists and knuckles start stretching the dough until 10" in diameter making sure not to tear it (this should be easy since it is a small pie).
Dust your pizza peel (or a piece of cardboard) very well with semolina flour or corn meal and set your pizza dough on it making sure it slides easily when moved. Pour 2-3 tablespoons of the pizza sauce in the center and spread it around with the back of a spoon leaving 1 inch of space at the edges and making sure not to get any on the peel. Sprinkle with the mozzarella and add your favorite toppings. (Don't add too many toppings, keep in mind this is a thin crust and a couple of toppings will suffice).
Gently slide the pie on the preheated pizza stone in a hot 525 degree or more oven and bake for 5 to 7 minutes or until golden brown on the edges. When making a breakfast pizza I find that the egg cooks perfectly in 6 minutes.
Remove from the oven and sprinkle with the basil and freshly grated parmigiana. Allow to rest for a few minutes for the cheese to set.